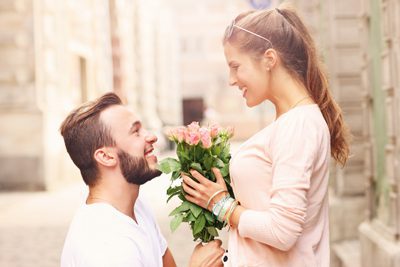 Celebrating Valentine's Day with Your Sober Date
Valentine's Day represents a time to shower your loved one with affection, but this holiday can be challenging for those who are newly sober.
If your spouse or significant other is in recovery, this is a great opportunity to adjust your expectations and create new Valentine's Day traditions together.
Stay Sober Yourself
The easiest way to support a sober partner is to refrain from using drugs and alcohol. By making a conscious decision to stay sober, you're sending the message that you are 100% behind your partner's recovery and that you believe it's possible to have a great time without drugs and alcohol.
Restaurants and clubs may be traditional spots for celebrating Valentine's Day, but these locations can be problematic for someone who is newly sober. Instead of putting your date in a position where you know there will be a temptation to drink or use drugs, pick an activity that keeps the focus elsewhere. For example:
Go on a hike or bike ride, then celebrate with a picnic lunch.
Go stargazing outside or at a nearby planetarium.
Cook a gourmet meal together at home.
See a romantic movie while sharing popcorn, soda, and your favorite candies.
Tour a museum or art gallery together.
Visit the zoo and enjoy learning more about your favorite animals.
If your partner has been attending a support group or house of worship that has planned a special Valentine's Day event, this might be a great date idea to consider as well. You'll be able to show your support and meet some of the people who are helping your partner with the recovery process.
Write a Special Love Note or Make a Memory Jar
A handwritten love note is incredibly romantic, but this gesture will take on new meaning if you include an expression of your support for your partner's recovery. Write from the heart, covering the following key points:
Share your thoughts on how far your significant other has come since entering recovery.
Talk about how much you appreciate the hard work he or she has put into the recovery process.
Mention how excited you are for a brighter future together.
If a lengthy handwritten love note isn't your style, make a memory jar instead. Find a large glass jar that you can decorate with patterned paper, ribbon, stickers, or other embellishments. Fill the jar with folded slips of paper describing special memories of your relationship and things you love about your partner. Just a sentence or two on each slip of paper is fine, since the idea is to provide words of love and support that your partner can look back on whenever they are feeling blue and in need of a little pick-me-up.
Take It Slow
Addiction recovery requires rethinking past destructive behavior patterns, including in the bedroom. Many people in recovery are so accustomed to being intimate while under the influence that the prospect of sober sex can be scary.
If you sense that your spouse or significant other is reluctant to be physically intimate, know that it's not about their level of attraction for you. A person in recovery needs to focus on building confidence and a strong self-image before they can build a healthy sex life. Consider taking some of the pressure off by focusing on kissing, cuddling, and other ways to show affection that don't involve sex.
Keep the Lines of Communication Open
Dating someone who is newly sober isn't going to necessarily look like the romances you see portrayed on TV and in the movies. This is normal and nothing to be concerned about. Let go of your expectations for what a relationship "should" look like and focus on clear, honest communication with your partner.